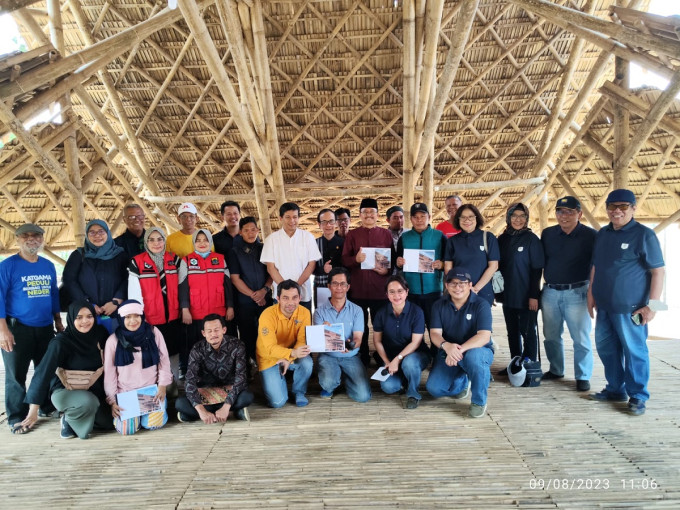 The UGM Faculty of Engineering Alumni Family (Katgama) has built a community hall made from bamboo for Talaga Village residents in Cugenang District, Cianjur Regency, West Java.
This initiative is one of Katgama's programs under the "Indonesia Bangkit" social program, which aims to support communities affected by disasters. The aid provided is expected to be sustainable and beneficial in the long term. 
The choice of location was influenced by a previous earthquake that occurred 10 km southwest of Cianjur Regency, with a depth of about 10 km. The impact resulted in thousands of damaged houses and landslides that disrupted traffic access.
Professor Eugenius Pradipto, the chief architect of the community hall, explained that due to limited funds, bamboo was predominantly chosen as the building material. Compared to permanent structures, bamboo construction was significantly more cost-effective. 
The bamboo pavilion is expected to have a lifespan of approximately five years, during which Katgama can implement various community social programs. 
These social programs may include research on bamboo pavilion construction, village activity centers, and training programs. One such training program could focus on well construction, commonly known as "suntik sumur" in Yogyakarta. 
In this area, wells are typically not built with concrete or stones but are dug directly into the ground. As a result, these wells are vulnerable to collapse, especially during earthquakes, leading to water shortages.
The bamboo pavilion measures 14×10 meters and includes ample space for communal activities. The construction primarily utilizes bamboo, featuring several innovations patented by Professor Eugenius Pradipto, including hollow bamboo piles, modular bamboo flooring, and modular bamboo roof coverings. 
Hollow bamboo piles prevent water from entering the bamboo structure, making it more durable and resistant to decay. Modular bamboo flooring and roof coverings provide flexibility and speed in construction, making them suitable for emergencies. 
Additionally, the flooring and the lower part of the structure are raised above the ground to protect against termites and provide comfort, even in wet conditions.
Professor Eugenius Pradipto hopes to involve faculties from other disciplines in carrying out social activities in Talaga Village.
"I have a roof tile block system that can change or extend its lifespan. If it can be used for ten years, it can be increased to 20 years because of its reversible construction system. The advantage is that only one-third of the tile is exposed, with two-thirds covered by the layer above it," the professor said.
"So, if one-third has been used for ten years, it can be flipped or rotated alternately. This allows us to compete with factory-made roof tile products, and of course, it is very affordable without the need for ceiling covering."
Author: Rifai